Improve quality assurance of electrical insulation in the factory
The latest partial discharge measurement techniques, explored in a CWIEME Berlin seminar, improve quality assurance of electrical insulation in the factory and prevent unnecessary costly repairs or outages in the field.
Subject to high mechanical forces and heat, the insulation surrounding an electrical coil naturally degrades over time. Partial discharges usually occur, before the insulation breaks down entirely, leading to a potentially dangerous and costly explosion or fire. Repairing or replacing insulation prematurely, however, also presents a source of avoidable expenditure for equipment owners. The solution? Partial discharge measurement.
"Twenty years ago, partial discharge measurement could only be performed under certain laboratory conditions," says Rene Hummel, applications engineer at electrical testing and monitoring specialist Omicron. "Now, thanks to advances in computer technology, partial discharge Machines measurement has emerged as a viable solution for checking the health of electrical insulation in rotating machines and transformers, as part of both the manufacturing process and routine maintenance procedures. You can fit all the equipment you need in the back of a small car."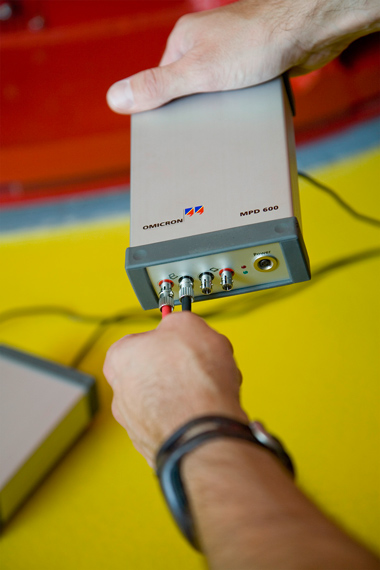 Despite the ease with which electrical insulation can now be tested, however, PD measurement remains relatively unknown. "I am often surprised how many manufacturers and machine owners are not aware of the tests they could perform – and how beneficial they could be," he says.
By incorporating partial discharge measurement into their development and production processes, manufacturers can either improve the quality of the insulation on the coil or rest assured of its integrity. For the owners of high-voltage equipment (above 3kV) in particular, however, PD measurement in the field can offer significant economic benefits, as well as improvements in safety.
Significant financial savings
"If the insulation in a small appliance, such as vacuum cleaner, fails and it becomes inoperable, it is not a big deal, but if a generator in a power plant goes down, the owners could lose millions. What's more, because high-voltage devices are usually connected to the network, any breaks in the insulation could result in a powerful explosion, causing a lot of costly downtime and damage to surrounding equipment – not to mention injuries or death. This can all be avoided by regular health checks," Mr. Hummel says.
Regular health checks can also help equipment owners save money by preventing them from carrying out expensive repairs or replacements before they are strictly necessary.
"A piece of equipment may reach or be reaching end of the service life estimated by the manufacturer, but is still in perfect working order. PD measurement lets the owners know whether the insulation is still intact and is safe to continue using," he says.
PD measurement will be the subject of a seminar by Mr. Hummel at the forthcoming CWIEME Berlin exhibition on Tuesday 5th May, 11:05-11:45 at CWIEME Central (hall 3.1). CWIEME Berlin is the world's largest dedicated event for coil winding, insulation and electrical manufacturing, regularly welcoming more than 6,500 engineers, designers, buyers and academics in the global automotive, energy, consumer electronics, industrial machinery, military and aerospace sectors.
In his seminar, entitled 'Partial discharge measurement: An effective method for electrical insulation diagnosis', Mr. Hummel will describe the most common PD faults and their consequences in a variety of electrical assets, as well as the equipment used to identify them and how to analyse the data. He will also discuss the pros and cons of single, short-term and continuous PD measurements.
Mr. Hummel and his colleagues will also be available to talk PD testing on the Omicron stand (4.2/C19) and at their workshop in the CWIEME Workshop Hub (hall 4.1) at 13:30 on Wednesday 6th May.
"In a few years, I see PD testing becoming standard practice in the production and maintenance of high voltage coils in transformers and electrical devices. I hope visitors to CWIEME Berlin will take this opportunity to find out more and become early adopters, contributing to the improved quality, safety and profitability of the electrical industry around the world," he says.