What is meant by building bye laws
Building bye-laws consist of certain rules and regulations formed by a municipal or town planning area under its jurisdictions. The aim of framing the bye-laws is to ensure the provision of reasonable minimum requirement and standard (based on current scientific and engineering, knowledge, experience and technique and modern method of construction) in planning, designing and construction activities of building in the zone.
The bye-laws are framed paying due regard to the weather conditions, local construction practice, availability of martial, labor and other similar factors, these building bye-laws differ from place to place.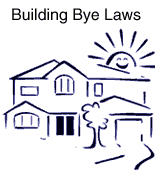 For example, building bye-laws for Mumbai will not be same as that of district or taluka place having municipality or a village having gram panchayat. The above mentioned uncontrolled growth leads to slum area with no facilities such as water supply, drainage, electricity, and roads . all these leads to fire, unsanitary condition, and health hazards. For proper growth of the city, building regulations and bye-laws are musts.